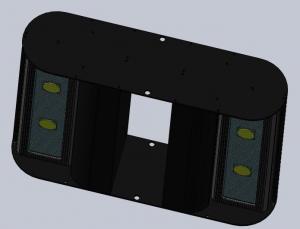 SKU: 24" Street series 20k
Direct retro-fit light unit for replacement of HID technology.
Reduce energy usage - Unit draws 240W TSD. Technology enables an energy savings up to 50% over traditional lighting packages.
Increase safety with greater visibility – The
LEDs provide bright daylight white for ultimate security.
Decrease maintenance – The 10+ years lifetime of LED fixtures reduces maintenance costs. Fixture is fully recyclable.
Directional – Each unit has the ability to direct light where needed, eliminating external louvers to block stray light.
SPECIFICATIONS: Wild Ideas Light Company LED high output Universal Luminaire. The unit is designed for maximum thermal dissipation of heat away from the LEDs. Limiting the temperature rise of the LED at the mounting position during continuous operating conditions insures projected life and luminous output.
CONSTRUCTION: The Wild Ideas Light Company multi-function Universal Luminaire has a durable lightweight aluminum housing . Each housing and LED array is designed for interior or exterior applications for years of hassle-free beauty and function.
Flat, tempered, clear-glass lens. Light array has 360-degree rotation capability to put the light where needed.
LED LIGHT COLOR / QUALITY: The high output LED type range is cool 5,500K to 7,000K on the Kelvin temperature scale and is rated for a minimum of 70,000 hours of continuous operation at ambient temperatures from –13°F (-25°C) to 125°F (+51°C ).
MOUNTING: Aluminum angle template for mounting over/against a 4" pole.

WATTAGE: LED: 240W
LUMEN OUTPUT: 20,000
HOUSING: 24"x16"x6"
REPLACEMENT FOR: HID series 800-1500 watt
ELECTRICAL: UL1310, Class 2 compliant or UL8540 appropriate divers suitable for damp or dry locations. Housings and internal components are rated IP 66 or 67
Designed for outdoor or indoor applications, operating from a 45-60 HZ +/- 3 HZ AC line over a voltage ranging from 90 volts to 305 volts. Each driver is an efficient switcher with a power factor of greater than 0.91 with an input current of less than 20% total harmonic distortion (THD).
Fluctuations of the line voltage have no visible effect on the luminous output. Each driver includes voltage surge protection to withstand high repetition noise transients while meeting emission limits as set forth by the FCC Title 47, Subpart B, Section 15. 347-480 volt 50/60 HZ driver available at an additional cost.
ENVIRONMENTAL: All Wild Ideas Light Company light engines fully comply with the Restriction of Hazardous Substances Directives (RoHS) adopted in February, 2003, by the European Union.
QUALITY ASSURANCE: Wild Ideas Light Company utilizes UL wet or damp rated and FCC tested and approved custom drivers. In production, each light engine panel is burned-in for a test period and certified for compliance by Wild Ideas Light Company's internal QA process.
Meets requirements via specific installation method for Dark Sky ratings.
Recyclable
USA Made in Colorado
Patent Pending